June 10th, 2017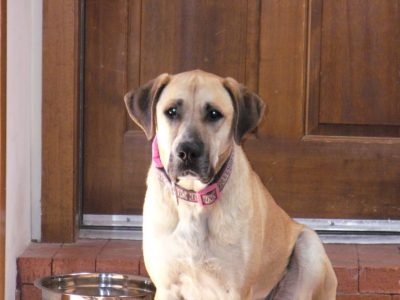 Her name is Roxy and it seems to suit her. Still, I reserve the right to change it at some later date. She's eighteen months old but is currently too freaked out to be much of a puppy. We have a long, long road ahead of us.
I found her on Craigslist, a human's sad story – her mom's brother was diagnosed with stage 4 cancer and she's been working double shifts to help with bills and taking care of her brother. So Roxy has been getting zero attention, essentially a yard dog. Kudos to her mom for knowing Roxy deserves more and better. And it broke her heart (and mine on her behalf – I can't even imagine) when I drove off with Roxy.
As reported, Roxy's mom is part Great Pyrenees, Anatolian shepherd, German shepherd and some lab. Dad was a traveling man so zero information on him. That tail of hers – I have no idea. Certainly nothing in her mom's makeup. When up, it curls completely back on itself, a complete tight circle.
I could tell meeting them in the Walmart parking lot that Roxy was not on board with this idea. It took trickery to get her into my car. Maybe I should have bailed on the whole thing. I certainly think such thoughts when I'm being growled and barked at in my own home. But there were an awful lot of signs in the week preceding meeting Roxy. The hummingbird that sat in a tree  in my backyard watching me all last weekend, the butterfly that swooped down almost whacking me in the face, tons of dogs in the park during lunch. I asked Isa to whisper in Roxy's ear so Roxy could give me a strong yea or nay when we first met. I wouldn't say I got a definitive answer from Roxy that night about her and me but I did get a strong answer that Roxy might be better off in a new home.
We're 36 hours in now and she will occasionally come out of her self-designated safe zone (pictured above). I think she finally got some sleep last night which can only help. I bought some calming treats (with hemp – oh hemp, by any other name!) and they seem to be helping.
She's reportedly good with cats and loved her previous cat. Wallee made a loud and unmistakable statement when we first walked in. Five minutes later walked up to Roxy (on leash), sniffed and did the kitty arch/rub. Roxy sniffed and didn't move. I think there will be a beautiful friendship there eventually. Inchallah.
I have no clue how she is with other dogs. Eventually I will take her to day care, that will only help, but it's way, way too soon for that. She seems to like people but is shy and a little fearful, then warms up quickly. We can work with that.
It's interesting and odd, her conflicting behaviors. She will let me pet her for long stretches of time, without relaxing the tiniest bit. If I stop, she asks for more, even giving kisses. Most of this post has been typed one handed so I can continue with skirtches. But if I approach her in her safe zone, I get standard issue low warning growl. I'm not an idiot – for the most part I have something yummy in my hand which changes her mind immediately. Might be a puppy issue but she seems food motivated (hooray!). When she hears me moving around upstairs and/or I come downstairs in the morning, I'm treated as an interloper – full scale red alert. She has zero self-confidence (which of course explains all of the above) and is a nervous piddler (oh joy).
I know, without any of you saying it, that it's not even been two full days. And I see progress within that time so I'm not flipping out (mostly). I think she will be a hard-core love bug once she figures things out here. She knows about couches and clearly spent some time there last night. There was evidence of puppiness this morning: shoes in random places (but not chewed on!), cat toys moved around, the mummified lizard from the window sill far from his original resting place. I plan on getting a ball out this afternoon and see what happens although the yard is not big enough for her to get more than a couple of steps. Exercise would go a long way but she's still too freaked to take for a walk – a definite flight risk and she has no tags. Somehow she even lost her rabies tag. I'm open to suggestions for confidence building exercises and will certainly do some research.
So there's the news. I've burst into tears more than once since Roxy's been here, missing Isa. My guess is that's totally normal.
Think good thoughts for us. I have a bit of a challenge on my hands.
Peace and hugs.