September 27th, 2017
We'll save those for the end. And since I have been told Roxy and I are designated Tripawds entertainment, I give you Exhibit A: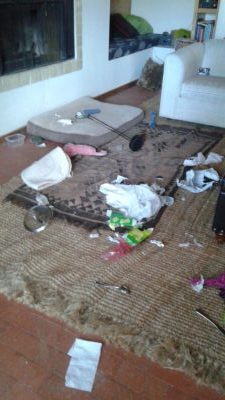 The scene that greeted me on my arrival home last night. Multi-effort destruction: TP holder and TP from upstairs, dishes and trash bag from under the sink, brand new scrubber things also from under the sink with the foam portion (evidently) consumed, both cat beds from upstairs and (not pictured) the grill cover and brush. There is a possibility the wind caused or at least started the grill cover's demise. It was on it's last legs. Other losses include the spatula and some tupperware, the grill brush may have some life left. Please note the empty dog food can in "her" chair. Thank goodness the trash was largely empty. For the record, the cabinets under the sink close with magnetic catches, all I ever needed to keep Isa out – "someone" has figured out how to open them. I have velcro on them now but I don't think that will last long. I need to come up with another solution. Fast.
In between weekend miracles, I did some remediation. The bottom hinge of the gate in the back fence looked like this: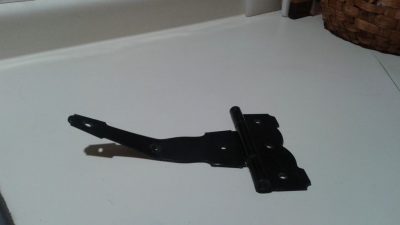 yes, a nice big strong iron hinge bent enough to leave a gap potentially large enough that someone (besides Wallee) could squeeze through. So now the gate is no longer a gate and looks like this: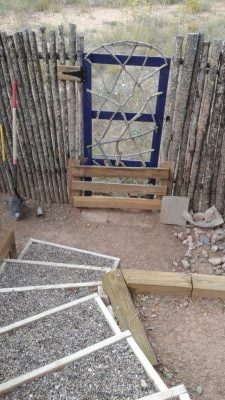 Pretty isn't it? As near as I can tell there's some sort of contest between us. I try to foil her attempts at destruction; she laughs and finds new, more horrible, methods. I'm pretty sure I'm losing.
Moving on to the initial, albeit subjective, miraculous incident of the weekend: after almost four months of not once acknowledging the existence of the dog door, Roxy started using it Friday night with no effort on my part, evidently simply a matter of motivation. Fall has definitely arrived here (snow on the mountains this morning) and it has been cool enough I want the back door closed. And I have been stinky about getting up and down every 30 seconds to let her in and/or out . The dog door does slow her down somewhat – no more full speed ahead with a head-butt to knock the screen open. No wonder I've repaired the back screen door twice this summer. Well, the screen part has been fixed; the chewed up frame has yet to be repaired. One can only do so much.
The true, real and huge miracle:
My neighbors (the good ones) stopped by Saturday. Roxy made her usual sincere promise to eat them when they arrived. I got her harness on psycho dog, not sure how, and put her in time out in the bathroom. Rhae and hubs and I talked for a while and then hubs bailed before the hound was released, can't say that I blame him. Rhae and I talked a little more and, when she was mentally braced, I put the leash on R and brought her out of the bathroom. A moment of hesitation but no psychotic break, no barking. She walked right up to Rhae, said hello, and sniffed for treats. I almost fainted and had to document the occasion. Bless her, Rhae has been brave enough to have made several attempts with the Roxinator over the past couple of months so between that and the harness and leash, a true miracle:
I wouldn't say Roxy was 100% relaxed and on board but she was such a good girl! Yes, we did reward with treats – I am not a monster, in spite of what she says.
And I'm counting this as another miracle, although some of you may disagree. The Wicked Witch of the West neighbor? That moved away the middle of the summer? She texted Sunday and wants to make up. I would have bet money I was never going to hear from her again. So I texted back and at some point we'll talk. I plan to exercise a few more boundaries and a lot of caution with her. I will bet the farm that she will never, ever darken my door. A safe bet don't you think?
So there's this week's litany of destruction and miracles. Stand by.
hugs to all!