July 10th, 2017
And I'm a sap – but we all knew that.
Isa's "gotcha" day was June 7 – it would have been ten years together. I was more than a little distracted from that by getting Roxy on June 8. Coincidence?
Isa was diagnosed July 1, 2016. July 4th was horrible – for both of us. She never liked loud noises and of course fireworks were second only to thunderstorms directly overhead. Maybe it was the tramadol that made the noise so much worse for her but she spent the evening in the back of the closet, shaking. So that was all I could think about this July 4th. That and realize the neighborhood was quieter this year and Roxy didn't so much as bat an eyelash.
And Wednesday (12th) would have been her one year ampuversary. Now, in hindsight, the entire roller coaster from diagnosis until she went to the Bridge feels like time spent in another dimension. I think it's safe to say I was far from rational at any point, ever.
Yes, Roxy is a blessing (most of the time anyway) and has helped heal my heart a great deal. But right this second, my heart is breaking all over again. So sharing here where I know it's understood. This piece of sh*& disease is so, so grossly unfair.
All that said, a couple of pictures for you:
The cat is Rodney, a tom who's been at the Bridge for a couple of years now. He fine-tuned Isa's cat behavior training. I have had this picture on my bedside table since it was taken four or so years ago.
and this one I think I told at least Sally about at the Pawty of the Century: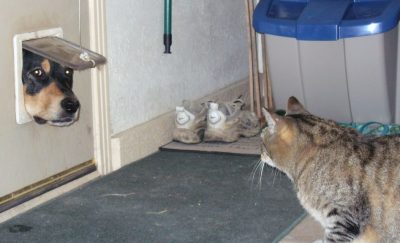 Still cracks me up, and yes, Rodney again. He did eventually forgive me for bringing her home.
Thanks for listening…
hugs!
UPDATE: Look what Isa sent me last night! The Handbook on Be More Dog! I first saw the book in the vet's waiting room at some point in this journey. Loved it and put it on my Amazon wish list where it has been ever since. So last night, feeling sad and sorry for myself, I stopped at my favorite mega-sized thrift store. When the going gets tough, the tough go shopping, right? I don't always look at the books but I did last night. And there it was – for a whopping $1.29! I read it last night with Roxy in my lap (partially, she doesn't fit all the way). I'm still sad, and will probably continue to be so, but I feel a little less broken. It has to take some work to send a book from the Bridge! But we knew my girl has special skills.
Love,
Teri