December 1st, 2017
Albeit of rather poor quality. My phone, and therefore my camera, are edging into dinosaur territory.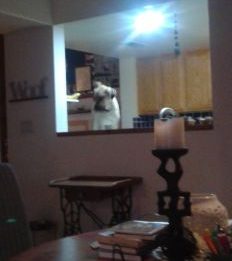 Yesterday morning I went from putting one dining room chair on the kitchen counter to two chairs. When I got home last night, both chairs were on the floor and poor Wallee's bowl was, once again, empty. My camera phone focuses so mind-numbingly slowly, that Miss Thang has inevitably moved before the shutter goes. When I started taking this, she was looking at me and wagging her tail. I suffered a bit of a conflict between satisfying the Tripawd necessity for a photo and hollering at her.
Clearly, I still don't have a workable solution and she's becoming increasingly brazen (not to mention pleased with herself).
Happy Friday all!
Love,
Teri, the (incorrigible) Roxinator and Angel Isa